Hill Cut Community Organization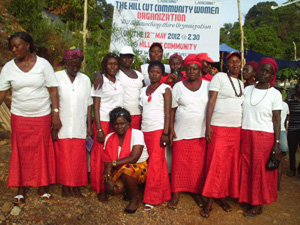 Mission:
The Hill Cut Project aims to create a model of developmentand health intervention that is environmentally sustainable, encouragespartnership, mutuality and reciprocity within the Hill Cut Community inFreetown, Sierra Leone in the following ways:
• Establish a community garden to augment the limited local food supply, and tocreate opportunities for building trust, cohesion and shared goals amongcommunity members.
• Build a local community center (using locally engineered solar panels) thatwill act as a resource and meeting place for community education,decision-making, and health initiatives.
• Fund "start up" community-owned resources, including bicycles, mopeds,computers, and furniture. These resources will provide low-cost access totransportation and education to local community members, as well as provide asource of income to fund teachers' salaries and other community projects.
• Create and fund local "Community Pillar" and Community Innovator" awards toinspire and reward those groups/individuals in the community who promoteconnection and trust within the community, and/or create sustainableinnovations that better the health or well-being of the community.
• Establish funds to employ two community members to be trained in theinstallation and maintenance of the solar electricity panels with the agreementthat they will use their developing skills to educate and expand solar energiesin Hill Cut and neighboring communities.
Background:
The Hill Cut community members came together last summer and discussed their collective needs, strengths, and hopes. This is a hard working,resilient, and talented group of individuals and families. Still, a mere ten years out from a brutal civil war, and in the continued grip of poverty, community members need hope, justice, as well as financial, social, and emotional support. They need opportunities to earn adecent wage in order to be able to support their children and live with dignity.
Over the past year, we have worked together to establish a local school with elementary education and adult literacy classes (September, 2011). Inspired and heartened by these initial efforts, community members formed the Hill Cut Community Hope Project, an officially registered community-based organization (CBO) (November, 2011). Members include local men and women, and they have elected an Executive Board of esteemed elders as their final decision-making body.
This past spring, a group of women from the literacy class came together to form the Hill Cut Community Women's Organization (April, 2012). The women have committed to work together to establish a micro loan program, create scholarships for local youth, and improve the health, infrastructure,and well being of the entire community. Recently, in anticipation of the arrival of a small CHP team (August, 2012), the two organizations have come together and committed to working together on shared goals of sustainable community development.